If you're looking for science songs, especially for young kids, not a bad place to start is The Great Beyond blog. A far as I can tell, this is the latest in the series. They're up to thirty now! You can always trying searching the blog using 'song science', using the search box in the upper-left corner. (I'll be honest some of them make me squirm, but some aren't so bad, and the kids' ones are obviously for kids!)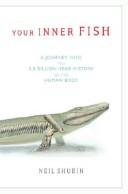 An earlier post in the series passes on that Jef Poskanzer has posted the entire collection of the 1950s-1960s era Singing Science Records online (for kids).
Below I've given a video of one of the songs (below the "fold"), which will be (very) familiar to science bloggers, but perhaps new to some of my non-science readers. The fish featured in it is a model of the Tiktaalik fossil. Neil Shubin, who the song mentions, is one of the discoverers of the fossil. An account of his work on this fossil is given in his excellent book Your Inner Fish (cover to right). The author offers an adapted excerpt  from the book, Fish out of water: Your Inner Fish, that you can read on-line.
Anyway, on to the video for you (and back to work for me!):
Other posts at Code for life:
Map shows New Zealand with lowest death rate on earth in 1856, over 11 in 1000 dying
Deleting a gene can turn an ovary into a testis in adult mammals
Explore ancient science books on-line
Monday potpourri: maps, malaria in the USA, cholera in Dunedin and vaccines
Scratching open your brain in your sleep and other stories (Best American Science Writing 2009)
---