Sciblogging: they blinded me with science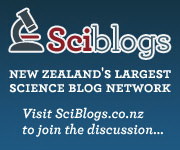 This week sees the launch of the next big thing in science communication down under – Sciblogs, the new science blogging platform from the NZ Science Media Centre. Sciblogs is hosting 25 blogs, from scientists in Crown Research Institutes, universities and private research companies, with two dozen PhDs involved. I'm letting the side down on that score… but Hot Topic is very pleased to be on the Sciblogs blogroll as one of the founding participants. There are some established bloggers on the platform, including Ken Perrott's Open Parachute and Jim McVeagh's MacDoctor, and there many others that deserve a wider audience. New bloggers include Andy Reisinger, a senior climate researcher from VUW, and there's my new favourite blog with kakapo pictures: Chthonic Wildlife Ramblings (title explanation).
All Hot Topic's posts are being syndicated to Sciblogs, and will appear there under our own banner, but this site will continue as before. All discussion will take place here, unless and until we can work out a way of syncing comments between the to two platforms. Sciblogs looks set to be a one-stop shop for great science coverage from New Zealand, and I wish it (and all who sail in her) well.
Spot the blogger!
---