4500 ways in 174 countries to send a 350 message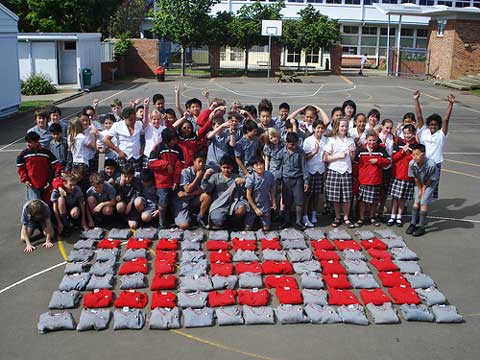 350.org's planetary day of action is well under way, with schools actions happening all over New Zealand — that's Remuera Intermediate above, taking their jumpers off for climate action. Tomorrow's the big day, with over 130 350 Aotearoa actions scheduled all round the country. You can find one near you at 350.org.nz. Lend a hand. Send a message.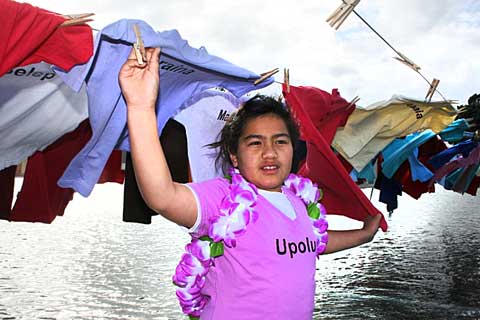 This is Jane Filemu, a 9 year-old Samoan girl taking part in 350 Islands For Change, an Oxfam-organised action at Takapuna beach in Auckland today. With Pacific Island nations being hung out to dry by the developed world, islanders waded out to a giant washing line and hung up 350 tee-shirts, each printed with the name of an island. Jane hung up the final shirt, recited a poem and then told the crowd:
'I have a choice to be one of many, to make a better world for the future of Aotearoa, Pasifika, our planet. Everyone has the power to choose wrong or right. Family, we can work together, we can make a change. Alofa, Aroha, Peace!'
My action? Colin King MP is turning up to open Amberley Farmers Market's summer season. I'll be having a chat to him about climate reality. 350 words, at the very least (and the mayor won't escape either).

---