Lester Brown: US falling out of love with cars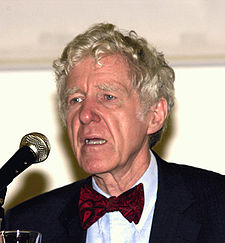 Lester Brown, author of Plan B 4.0, places more hope for climate stabilisation on shifts that he sees taking place in society and the economy than in internationally negotiated agreements. Not that he rejects such agreements, but he regards them as somewhat obsolete, for two reasons: first, since no government wants to concede too much compared with other governments, the negotiated goals for cutting carbon emissions will almost certainly be minimalist, not remotely approaching the bold cuts that are needed; second, since it takes years to negotiate and ratify the agreements, we may simply run out of time.
He's just issued a Plan B update which illustrates the kind of positive changes he sees taking place without the stimulus of global agreements. He announces that America's century-old love affair with the automobile may be coming to an end. The U.S. fleet has apparently peaked and started to decline. In 2009, the 14 million cars scrapped exceeded the 10 million new cars sold, shrinking the U.S. fleet by 4 million, or nearly 2 percent in one year. While this is widely associated with the recession, it is in fact caused by several converging forces. He sees no reason why the trend of scrappage exceeding new car sales should not continue through to 2020.
The forces at work?
Market saturation for one. The US has five vehicles for every four drivers.  'When is enough enough?'  Japan apparently reached car saturation in 1990. Since then its annual car sales have shrunk by 21 percent.
Ongoing urbanisation is having an effect. 'The car promised mobility, and in a largely rural United States it delivered. But with four out of five Americans now living in cities, the growth in urban car numbers at some point provides just the opposite: immobility.' Public transport schemes are being expanded and improved in almost every US city, and attention being given to more pedestrian and bicycle-friendly streets. Car use in cities is being discouraged.
Economic uncertainty and reluctance to undertake long-term debt is affecting household choices. 'Families are living with two cars instead of three, or one car instead of two. Some are dispensing with the car altogether. In Washington, D.C., with a well-developed transit system, only 63 percent of households own a car.'
A more specific uncertainty is the future price of gasoline. Motorists have seen gas prices climb to $4 a gallon, and they worry that it could go even higher in the future.
Finally, Brown points to a declining interest in cars among young people as perhaps the most fundamental cultural trend affecting the future of the automobile. Half a century ago getting a driver's license and a car or a pickup was a rite of passage. Getting other teenagers into a car and driving around was a popular pastime.
'In contrast, many of today's young people living in a more urban society learn to live without cars. They socialize on the Internet and on smart phones, not in cars. Many do not even bother to get a driver's license. This helps explain why, despite the largest U.S. teenage population ever, the number of teenagers with licenses, which peaked at 12 million in 1978, is now under 10 million. If this trend continues, the number of potential young car-buyers will continue to decline.'
If his expectation of shrinkage of the U.S. car fleet is sustained it also means that there will be little need to build new roads and highways. Fewer cars on the road reduces highway and street maintenance costs and lessens demand for parking lots and parking garages. It also sets the stage for greater investment in public transit and high-speed intercity rail.
 'The United States is entering a new era, evolving from a car-dominated transport system to one that is much more diversified.'
Brown is ever the optimist, but he seeks to be well grounded.  Has he been too quick to discern a trend, or has close attention to emerging possibilities alerted him to something of real promise?
---