On fire inside a snowball

Fire: NOAA's National Climate Data Centre has posted its report on global climate for July (press release). The combined global land and sea surface temperature of 16.5ºC was the second warmest in the NOAA record, 0.66°C above the average for the last 100 years of 15.8°C. The January to July period was the warmest in the record. The map below shows the anomalies for the month — spot the heatwave in Russia.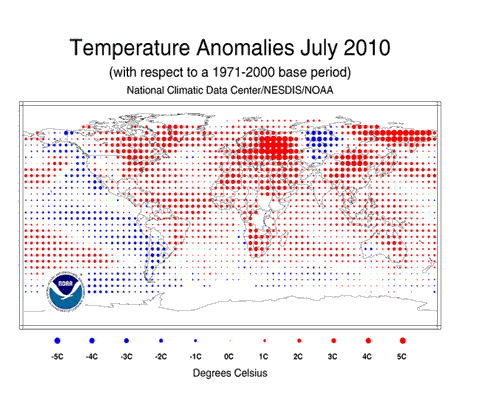 Meanwhile, NASA's Goddard Institute for Space Studies (GISS) has posted its take on the the July numbers: What Global Warming Looks Like. Click on the thumbnail image at the top of the post to see their map of July temperatures. One striking point they comment on:
…the area warmer than climatology already (with global warming of 0.55°C relative to 1951-1980) is noticeably larger than the area cooler than climatology. Also the magnitude of warm anomalies now usually exceeds the magnitude of cool anomalies.
GISS also note that the 12-month running mean (below) of global temperature is well into record territory, and that it's possible that calendar 2010 could also set a record.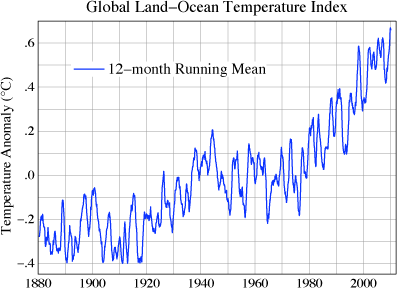 Meanwhile, up North….
Ice: The Arctic sea ice is still melting, and there's a lot to watch at the Arctic Sea Ice Graphs page compiled by Neven, who is also providing exemplary coverage of the melt season at his blog. He drew my attention to a remarkable expedition by two Norwegians, Børge Ousland and Thorleif Thorleifsson, who are attempting to sail their catamaran the Northern Passage through the northern sea route above Siberia, and then back to Europe through the northwest passage — all in a single season. Here's a great picture of their vessel in the Kara Sea: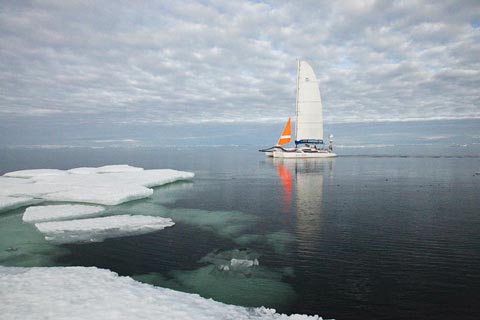 The huge ice island calved from the Petermann glacier this month is dramatically confirmed by this graph of ice loss from Greenland glaciers, monitored by Jason Box and the team at the Byrd Polar Research Center at Ohio State University on their MODIS Studies of Greenland blog.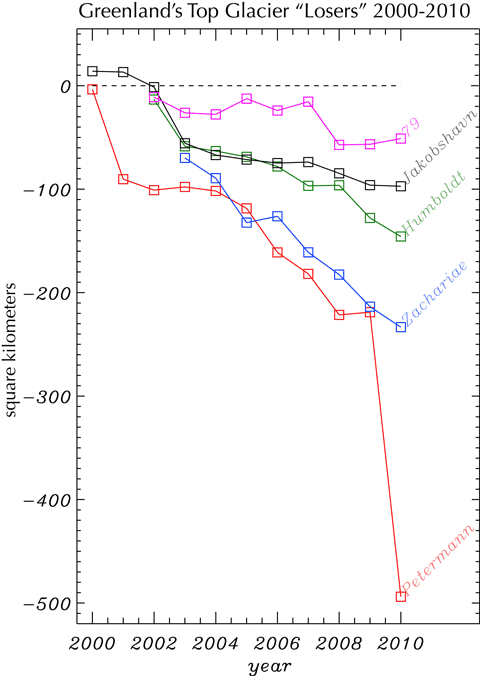 Here's an excerpt:
We just updated our survey to include year 2010. Retreat continues at the 110 km (68 mi) wide Humboldt glacier and at the 23 km (14 mi) wide Zachariae ice stream. Humboldt, Zachariae, and Petermann (16 km or 10 mi wide) have bedrock trenches that lead inland below sea level to the thickest parts of the ice sheet. Sleeping giants are awakening…
Ominous words…
[Cathy Bush, from her home demos]
---