NZ glaciers holding their own (just)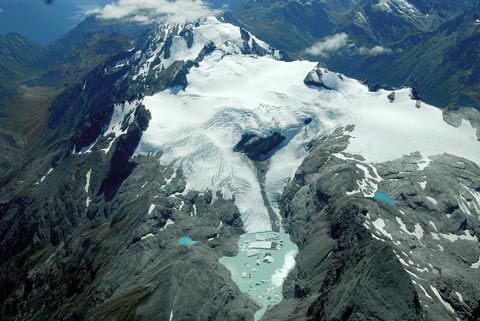 New Zealand's glaciers just about held their own over last summer, showing a very slight gain in mass on average according to NIWA's annual end of summer snowline survey, released today. The Park Pass glacier (above) in the Mt Aspiring National Park between the Hollyford Valley and the head of Lake Wakatipu (map) is one of the 50 index glaciers in the NIWA survey. From the press release:
'A moderate El Niño developed in the tropical Pacific in spring last year. This brought more southwesterlies, with normal to below normal temperatures through last summer and into autumn this year. The overall effect was to hold snowlines in a near steady state this year,' says [NIWA scientist] Dr Hendrikx. The previous two years (2007—08 and 2008—09) had seen end-of-summer snowlines rise significantly as not enough snow fell to compensate for melting.
The impact of the El Niño shows as a (very) small uptick at the end of the ice mass graph, but the overall trend remains strongly downwards.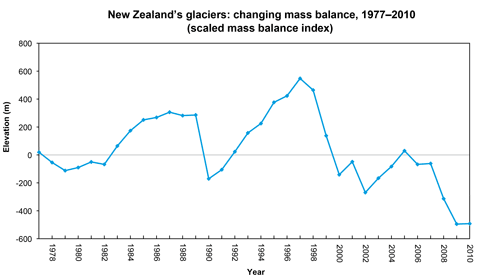 The full report (with lots of pictures from the aerial survey) can be downloaded from the NIWA web site. The Park Pass photo above was taken on March 6th this year on the fourth leg of NIWA's alpine flight, and shows some spectacular icebergs in the proglacial lake. The extent of the glacier's retreat can be seen in the Google Earth imagery at Mauri Pelto's From A Glacier's Perspective blog post on the nearby Donne Glacier. With a strong La Niña now influencing weather patterns in NZ, it'll be interesting to see how the glaciers fare. I wonder if I can blag a seat on the 2011 flight?

---