The Climate Show #3: Cancún and cooling

Climate talks heat up in Mexico, snow blankets Britain and much of Europe, and The Climate Show is at the heart of the action. Glenn and Gareth set the scene for COP16 in Cancún and then interview Oxfam NZ's Barry Coates at the conference to find out how things are shaping up. Gareth explores the link between Arctic climate change and cold winter weather in Western Europe, John Cook debunks that favourite sceptic myth — that the world's cooling — and we look at the potential for nuclear power to provide part of the solution to decarbonising the power economy.
Watch The Climate Show on our Youtube channel, subscribe to the podcast via iTunes, or listen direct/download here:
Follow The Climate Show on Facebook and Twitter, and soon at The Climate Show web site.
Show notes below the fold.
Drought in the Amazon: see Bryan Walker's recent post I wish it would rain, and a good Reuters feature here.
Snow in Britain and Europe: pictures and news at the BBC.
NOAA's Arctic Report Card on WACCy weather here.
UK Met Office statement, Nov 30.
Temperature anomaly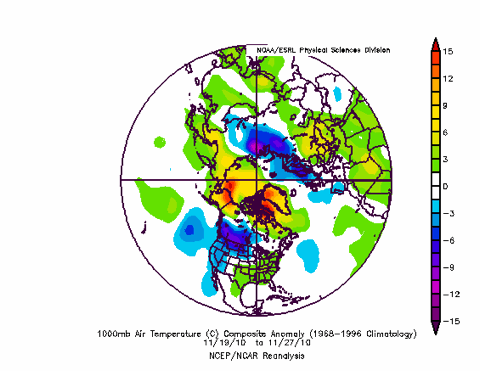 (plotted at NOAA's ESRL Daily Mean Composites page)
Normal NH atmospheric circulation at this time of year (850mb geopotential height climatology)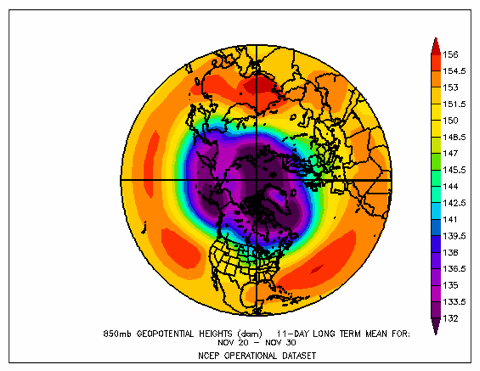 Current atmospheric circulation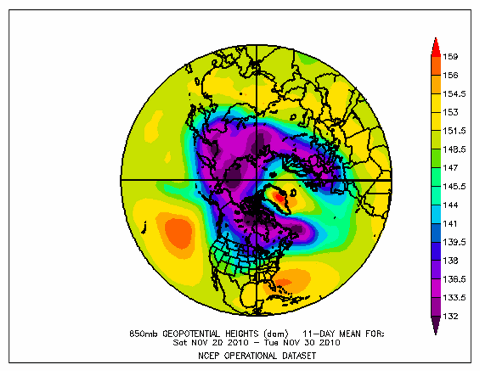 (plotted at NOAA's ESRL NCEP reanalysis page)
Cancun starts – expectations low: Can Cancún's COP deliver?
Copenhagen Accord sets the world on a path to 3C: (2) Degrees of existence.
…or perhaps 4C: RS Journal special issue – Four degrees and beyond: the potential for a global temperature increase of four degrees and its implications, and Guardian report.
UNFCCC iPhone app, Negotiator.
Barry Coates at Oxfam NZ: blog, new report, Now More Than Ever: Climate talks that work for those who need them most.
Give a goat for Christmas.
Debunking the skeptic with John Cook from Skeptical Science. This week: Global Cooling.
The Many Parts Solution
Going nuclear: new power station in Finland – 'many of the engineers and building experts working here are in their late 50s and early 60s; some are in their 30s, but few are in between. There's a hole in the nuclear workforce, not just in Finland but across the Western world.' — Reuters special report.
Nuclear is certainly part of the solution, for good coverage of a key technology – 'fourth generation' integral fast reactors – see Prof Barry Brook's excellent Aussie blog Brave New Climate.
Smaller scale: LED lightbulbs approaching mass market — 60 watt replacement due soon.
Thanks to our media partners: Celsias.co.nz and KiwiFM.
Theme music: A Drop In The Ocean by The Bads.
---