NIWA's new NZ temperature series: plus ça change…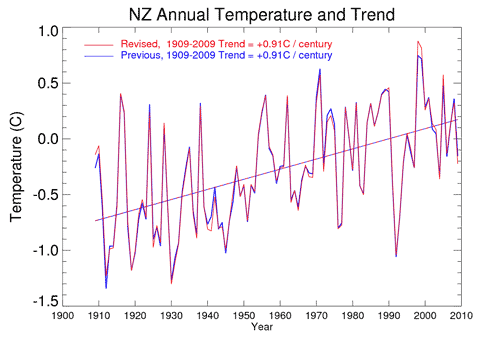 Earlier this afternoon NIWA released its recalculated NZ temperature record [full report], and as expected the changes from the "old" seven station series are more or less negligible. The trend over the last 100 years is identical, 0.91ºC per century, as the graph above shows. There are minor differences in some years, and larger ones at some stations, but the net effect to is confirm what we already knew: New Zealand warmed significantly over the last century. Commenting on the new report, NIWA CEO John Morgan said:
'I am not surprised that this internationally peer reviewed 2010 report of the seven station temperature series has confirmed that NIWA's science was sound. It adds to the scientific knowledge that shows that New Zealand's temperature has risen by about 0.9 degrees over the past 100 years'.
I'm not surprised either. But I confidently predict that the NZ Climate "Science" Coalition and Richard Treadgold will still find something to whinge about. After all, they're trying to sue NIWA to have the original seven station series declared invalid. Now it's been replaced — by something that looks rather similar. Which just confirms how shonky their original complaint and their subsequent silly suit really were. (More on this later, when I've had a chance to read the report in detail).
---