Dr Jan Wright, New Zealand's parliamentary commissioner for the environment, today released her submission (pdf) to the Emissions Trading Review panel. It calls for a significant toughening up of the scheme that was so extensively watered down by the current government in 2009, in order to avoid a billion dollar per year cost to taxpayers. Wright's recommendations make it clear that any further weakening of the scheme as the result of pleading by special interests can not be justified. She recommends that:
both the price cap and the two-for-one deal expire on 31 December 2012 as currently legislated.
a) a cap on the number of carbon credits freely allocated be put in place; and that

b) the phase-out rates for allocation be increased, not expressed as a percentage decrease of the previous year, and that the latest year in which allocation of free carbon credits must cease be specified.

the ETS is amended:

a) so that new industries that use lignite on a large scale are specifically excluded from receiving any free carbon credits;

b) to provide criteria for deciding which new activities are eligible to receive free carbon credits, including a requirement that the new activity will reduce New Zealand's national net greenhouse gas emissions.

agriculture is brought into the ETS by 2015 as currently legislated.
The submission contains a picture worth at least a thousand words: this graph makes it very clear why the NZ ETS needs toughening up: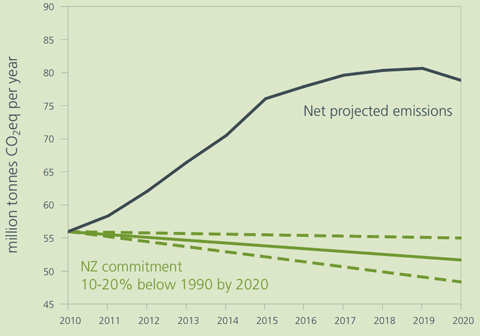 Current policy settings effectively guarantee that the government's Copenhagen Accord commitment to a 10% cut in emissions by 2020 is nothing but an empty promise. The ETS is not delivering the goods — and it will be the taxpayers that pay the cost. Wright estimates that the 'gap' between target and projected emissions "is likely to cost New Zealand over a billion dollars per year" by 2020.
---