Breaking the deadlock on shipping emissions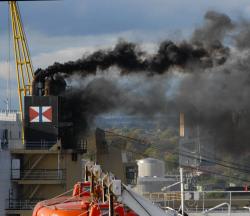 International shipping is responsible for an estimated 3 percent of global greenhouse gas emissions, equivalent to those of Germany, thirteen times those of New Zealand. On current trends they are expected to increase by 150-250 percent by 2050. They are as yet unregulated, trapped for over a decade in a familiar impasse where developed countries argue that all ships must be covered by the same regulation, the norm in the International Marine Organisation, but most developing countries insist that any regulation respects the principle that developed countries must lead the fight against climate change, known in the UN Framework Convention on Climate Change as 'common but differentiated responsibilities'.
WWF and Oxfam have issued a briefing which explores how a proposed deal can overcome the impasse, drive emissions down and deliver much needed funds to the Green Climate Fund established at Cancun to assist developing countries in climate change mitigation and adaptation projects. The proposal they support is for a fuel levy or auction of emissions allowances. At $25 per tonne of carbon dioxide this could raise around $25bn per year, of which at least $10bn should be directed to the Green Climate Fund.
Such a carbon price would only increase the costs of global trade by 0.2 per cent — equivalent to just $2 for every $1000 traded. Developing countries could be compensated for the effects on their economies, and it is calculated that up to 40 percent of the $25bn raised would be needed for this purpose. South Africa, for example, whose import costs are projected to increase by 0.14 per cent as a result, would receive compensation of approximately $200 million per year while Bangladesh, whose import costs are projected to increase by 0.19 per cent, would receive $40 million per year, in addition to any revenues received from the Green Climate Fund. The briefing considers that revenues provided to developing countries as rebates should be spent on building the resilience of their most vulnerable citizens, especially women, against the much larger rises and high volatility of commodity prices they are facing.
The remaining money could remain in the maritime sector to be spent on research and development into cleaner shipping.
The briefing aims to support trends which are already apparent. I found this an encouraging summary:
 Champions for such a deal are emerging. As G20 chair, France has made innovative financing for climate change and development a high priority for the summit in Cannes in November 2011 on the eve of the Durban COP. France and Germany both called this July for revenues from a carbon price for ships to be used to compensate developing countries and as climate finance. The EU already backs a carbon price with revenues used as climate finance, and will consider its common position on using some revenues to compensate developing countries at the October 2011 meeting of EU finance ministers.

The Group of Least Developed Countries has long called for climate finance to be raised from international transport, and many Small Island Developing States have called for emissions from shipping to be urgently tackled. Mexico, which has the G20 chair after France, is also heavily invested in making the Green Climate Fund a success, having driven for its establishment in Cancun.

Unlike some of their counterparts in aviation, many players in the shipping industry are calling for a carbon price to be set.
The briefing is clear that emissions from shipping can be cut, reporting that a recent study found that negative- or low-cost technical measures could reduce emissions by 33 per cent from projected levels in 2020. Operational measures such as simply reducing ship speeds can also produce significant reductions. I'll insert mention here of the work of the Carbon War Room on shipping emissions, which I reported on last year; they too see many opportunities for emissions reduction using existing technology.  But the WWF/Oxfam briefing sees the need for a further political signal to drive change at the speed demanded by the rapid onset of climate change.
Setting a carbon price for ships — even one starting at a moderate level — sends the clearest signal to ship owners and operators that they must internalise their carbon costs in both the designs and operations of their ships. Those that do so first will gain competitive advantages over those slow to act.
Barry Coates, Executive Director of Oxfam New Zealand, urges New Zealand government support for the proposed scheme and points to the benefits it could supply to the Pacific Islands' struggles against climate change which we were reminded of during this week's Pacific Forum:
'New Zealand has so far failed to identify new sources of climate finance, either in the short or long term. This proposal provides a realistic way for us and other developed countries to make progress towards our agreed commitments to provide long-term finance for addressing climate change, while protecting and supporting our Pacific neighbours. Our government should support it.'
---