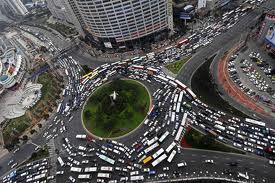 Environmentalist Lester Brown is a competitive long-distance runner even into his late seventies. There's something of the dogged persistence of that sport in the way he keeps delivering the message that humanity must change course, and backing up what he has to say with masses of data.  The latest email I received a few days ago from his Earth Policy Institute underlined that message yet again, along with stark figures. It's a short article headed Learning From China. I was taken with its directness and simplicity and thought it worth sharing here. He reflects that for as long as he can remember his own country, the US, with 5 percent of the world's population has consumed a third or more of the earth's resources. But today China consumes more basic resources than the US does. China uses a quarter more grain than the United States. Its meat consumption is double that of the United States. It uses three times as much coal and four times as much steel.
That's national consumption. What if per capita consumption in China were to catch up with the US? That will happen by 2035 on the conservative assumption that China's economy slows from the 11 percent annual growth of recent years to 8 percent.
If the Chinese spend their income more or less as Americans do today, then things get pretty well impossible.
If, for example, each person in China consumes paper at the current American rate, then in 2035 China's 1.38 billion people will use four fifths as much paper as is produced worldwide today. There go the world's forests.

If Chinese grain consumption per person in 2035 were to equal the current U.S. level, China would need 1.5 billion tons of grain, nearly 70 percent of the 2.2 billion tons the world's farmers now harvest each year.

If we assume that in 2035 there are three cars for every four people in China, as there now are in the United States, China will have 1.1 billion cars. The entire world currently has just over one billion. To provide the needed roads, highways, and parking lots, China would have to pave an area equivalent to more than two thirds the land it currently has in rice.

By 2035 China would need 85 million barrels of oil a day. The world is currently producing 86 million barrels a day and may never produce much more than that. There go the world's oil reserves.
It's hard to gainsay his conclusion:
What China is teaching us is that the western economic model–the fossil-fuel-based, automobile-centered, throwaway economy–will not work for the world. If it does not work for China, it will not work for India, which by 2035 is projected to have an even larger population than China. Nor will it work for the other 3 billion people in developing countries who are also dreaming the 'American dream.' And in an increasingly integrated global economy, where we all depend on the same grain, oil, and steel, the western economic model will no longer work for the industrial countries either.
Who in the world of planners, economists and politicians actually stops to think about this? These days there's a plethora of interviews and discussions and reports by experts on the emergence of China as a new economic force and the extraordinary rapidity with which it is happening. But it is hard to find in the mainstream media any reflection on the factors Brown draws attention to.
He never utters warnings without also pointing to solutions.
The overriding challenge for our generation is to build a new economy–one that is powered largely by renewable sources of energy, that has a much more diversified transport system, and that reuses and recycles everything. We have the technology to build this new economy, an economy that will allow us to sustain economic progress.
And he finishes with that haunting question on which so much depends.
But can we muster the political will to translate this potential into reality?
Note: Two of Brown's books have been reviewed on Hot Topic here and here.
---