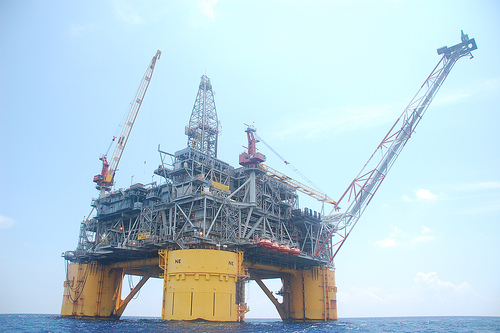 Evidence this week that the New Zealand Energy Strategy, trumpeted by the government as a key to the country's prosperity, is making good on its promise to advance oil and gas exploration.  The NZ Herald carried a report of a meeting on Monday of high-powered global oil and gas exploration companies hosted by New Zealand Petroleum and Minerals, a division of the Ministry of Economic Development. It's described as push to encourage new interest in the country's under-explored frontier basins.
It was no doubt a decorous occasion, attended by representatives of prestigious exploration companies, some of them state-owned. Duncan Clarke, of Global Pacific & Partners, is the strategic consultant engaged to facilitate the discussion of a new competitive bid round process for allocating exploration rights. He says the government is 'very open'. It's asking the companies 'what do we have to do to get you here'?
Mind you we don't want cowboys on this new frontier:
While a politically stable and potentially very prospective territory, New Zealand opportunities were nonetheless very much frontier and often deepwater opportunities, meaning the country needed to attract high quality, experienced operators who could withstand a rigorous approvals process and had high environmental standards.
It sounds reassuring, but when Clarke talks about environmental standards, don't for a moment think these include anything to do with global warming.  He's obviously restricting himself to spills, and even there he's dismissive of any special danger in deepwater drilling.
Clarke plays on the theme of bigness. He points out that New Zealand's six million square kilometre exclusive economic zone represents an enormous opportunity, at one-fifth the size of continental Africa.
"The big issue is unlocking national wealth. It's a vote for poverty not to do it. Maybe New Zealand is rich enough to afford that, but I doubt it. In the developing world, no one is in the position to indulge that view."
Clarke speaks with the same language as the government, albeit as a consultant. It's the sheer normality in which this is all clothed which makes it so difficult to gainsay. It is still normal to look to the discovery and exploitation of fossil fuels as a legitimate source of wealth. Even in countries where governments claim to be seriously concerned about global warming and seriously engaged in reducing greenhouse gas emissions, an exception appears to be quite acceptable when it comes to resource exploitation. Norway's majority state-owned company Statoil, for example, is heavily involved in the Canadian tar sands extraction and the government has stated it will not intervene in the commercial decisions of the company.
The picture is complicated by the fact that we obviously can't switch from fossil fuels overnight. There's no escaping a period of transition, and this lends added respectability to further exploration, even when it is abundantly clear that it is going to result in extension of fossil fuel dependence, not transition from it.
It's all an indication of how far we still are from facing the reality of climate change.  I don't know what kind of rationalisation goes on in the minds of those who pursue the fossil fuel quest, but I guess any of them who are dimly aware of the verdict of climate science fall back on the notion that it's bound to be exaggerated. I notice, for example, that the defender of further delay for NZ farming into the ETS, whose NZ Herald op-ed Simon Johnson wrote about in Hot Topic recently, used the term 'environmental doomsayers' as a way of discounting the science.
If only the scoffing was justified. But doom is precisely what lies ahead if we stay anywhere near our current emissions path. I was particularly struck by a recent post by Joe Romm on Climate Progress where he takes a deep breath and summarizes what the recent scientific literature says are the key impacts we face in the coming decades if that is the path we continue to follow.
These include:
Staggeringly high temperature rise, especially over land – some 10°F over much of the United States
Permanent Dust Bowl conditions over the U.S. Southwest and many other heavily populated regions around the globe
Sea level rise of around 1 foot by 2050, then 4 to 6 feet (or more) by 2100, rising some 6 to 12 inches (or more) each decade thereafter
Massive species loss on land and sea – perhaps 50% or more of all biodiversity
Unexpected impacts – the fearsome 'unknown unknowns'
Much more extreme weather
Food insecurity – the increasingly difficult task of feeding 7 billion, then 8 billion, and then 9 billion people in a world with an ever-worsening climate.
Myriad direct health impacts

Remember, these will all be happening simultaneously and getting worse decade after decade.  Equally tragic, a 2009 NOAA-led study found the worst impacts would be 'largely irreversible for 1000 years.'
It's a lengthy post, well worth reading in full if you can cope with the totality. These are the consequences we must ignore or scoff at in order to carry on with business as usual. I don't know where the scoffers get their confidence, but it's certainly not from any of the books and articles that I read. Nor do I know how to dent that confidence other than by continuing to draw attention to the scientific reality, which is what Hot Topic tries to do. And I guess by pleading as Romm does at the end of his post:
We can't let this happen.  It is indeed humanity's self-destruction. We must pay any price or bear any burden to stop it.
---