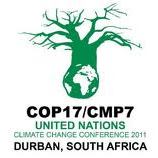 Let's revisit that cold war phrase: mutually assured destruction. Fifty years ago, MAD meant that in the event of conflict the USA and USSR could and would ensure the total annihilation of the other, thus ensuring what Wikipedia rather tamely describes as "a tense but stable global peace". Having lived through those years, the tension was notable, and in some cases inspirational.
The madness on display in Durban is of another kind, and of a different character. The destruction on offer will be (we can only hope) slower, but it is likely to be just as total — and is certainly being mutually assured. The governments of the world, by kicking the can down the road aways, have just ensured that the task of reducing emissions will be harder than it need be, and that the ultimate damage will be greater than it might have been. [Guardian]
Durban represents progress of a kind, as Climate Action Tracker's analysis acknowledges:
As the climate talks in Durban concluded tonight with a groundbreaking establishment of the Durban Platform to negotiate a new global agreement by 2015, scientists stated that the world continues on a pathway of over 3°C warming with likely extremely severe impacts, the Climate Action Tracker said today.

The agreement in Durban to establish a new body to negotiate a global agreement (Ad Hoc Working Group on the Durban Platform for Enhanced Action) by 2015 represents a major step forward. The Climate Action Tracker scientists stated, however, that the agreement will not immediately affect the emissions outlook for 2020 and has postponed decisions on further emission reductions. They warned that catching up on this postponed action will be increasingly costly.
What is mind-boggling is that so many leaders, so many highly-skilled diplomats and negotiators, can accept the evidence being offered by our understanding of climate system, and yet so comprehensively fail to act.
History and human nature, combined with the dysfunctional nature of international relations have conspired to give us what looks like it might be the worst of all worlds: one where lip service is paid to taking action, but where the big players are excused responsibility, and any efforts made are weak and meaningless. Plus c'est la même chose.
And so as not to beg the obvious question: I am left agreeing with Joe Romm. It will take a series of undeniable climate disasters, sufficient to provide the equivalent of a wartime motivation for action, before our politicians feel empowered to take the necessary action — before the world will act appropriately. One can only hope that the damage is not costly in terms of human welfare and wellbeing, and that they happen before nature rips the reins from our hands and the Anthropocene comes to an end.
---