Europe's renewable power continues to increase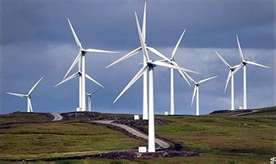 Some encouraging renewable energy news in a recent press release from the European Wind Energy Association.  Their analysis of the 27 National Renewable Energy Action Plans shows that the EU-27 will meet 20.7 % of its 2020 energy consumption from renewables, exceeding the 20% target.
The National Action Plans show that one third (34%) of EU electricity demand will be supplied from renewables by 2020. Wind energy will be the largest contributor, generating 14% of Europe's total electricity demand in 2020 (494 TWh from 213 GW installed capacity). Other renewables are expected to contribute as follows: 10.5% from hydro, 6.6% from biomass, 2.4% from solar photovoltaic, 0.5% from CSP, 0.3% from geothermal and 0.1% from ocean.
It appears that Europe's financial difficulties are not impacting seriously on the continuing development of renewable energy. The statistics for 2011 in the Wind Energy Association's  report  are evidence of that. Here are figures from the executive summary
• 9,616 MW of wind power capacity (worth some €12.6 billion) was installed in the EU during 2011, a similar figure to the previous year (9,648 in 2010);

• Wind power accounted for 21.4% of total 2011 power capacity installations;
And for renewable energy generally:
• Renewable power installations accounted for 71.3% of new installations during 2011: 32,043 MW of a total of 44,939 MW of new power capacity;

• More renewable power capacity was installed during 2011 than any other year, an increase of 37.7% compared to 2010;

• More power capacity was installed in 2011 than ever before – an increase of 3.9%, due entirely to increasing renewable power installations.
One of the most interesting aspects of power capacity installations in 2011 was the high proportion from photovoltaics — some 47% of the total. This graph shows the full picture for the year's new power installations.
But the trend isn't all good news. In 2011, for only the third time since 1998, the EU power sector installed more coal than it decommissioned.  The report sees this as highlighting the urgency of the need for the EU to move its greenhouse gas reduction target from 20% to 30% by 2020 (see Hot Topic post), to introduce an Emissions Performance Standard, and to end decades of subsidies for new coal build and its fuel.
The short interview below is with the Communication Director at the European Wind Energy Association.
---