Symptoms too serious to ignore: a call to face up to NZ's critical risks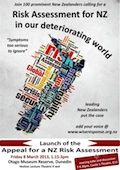 A loose affiliation of New Zealand's great and good will launch an appeal to parliament next week, asking for a dispassionate and non-partisan risk assessment of the "unprecedented threats to our collective security" facing the country as a result of climate change, fossil fuel extraction and economic uncertainty. The Wise Response group features poets, writers, All Blacks, academics, surgeons and scientists amongst its first 100 supporters1, and will launch its appeal at a public meeting in Dunedin on March 8th.
In its appeal the group identifies critical risks in five areas:
1. Economic security: the risk of a sudden, deepening, or prolonged financial crisis. Such a crisis could adversely impact upon our society's ability to provide for the essentials, including local access to resources, reliable supply chains, and a resilient infrastructure.

2. Energy and climate security: the risk of continuing our heavy dependence on fossil fuels. Progressively restricting their extraction, importation and use could promote a switch to genuine renewables and encourage smarter use of existing energy and energy systems while creating better public transportation. Such responses would simultaneously lower greenhouse gas (GHG) emissions.

3. Business continuity: the risk exposure of all New Zealand business, including farming, to a lower carbon economy. To mitigate this risk, all businesses could explore both market and job opportunities in reducing the human ecological footprint, finding substitutes for petroleum-based goods and services, increasing efficiencies and reducing waste in food and resources. This would position New Zealand as a market leader in low-carbon technologies and living arrangements.

4. Ecological security: the risks associated with failing to genuinely protect both land-based and marine ecosystems and their natural processes. We believe that such protection is essential for both the maintenance of indigenous biodiversity and ultimately, all human welfare.

5. Genuine well-being: the risk of persisting with a subsidised, debt-based economy, preoccupied with maximising consumption and GDP. An alternative is to measure progress by means of indicators of community sustainability, human well-being, more equitable wealth-sharing and environmental resilience, and to incorporate full-cost pricing of harmful environmental impacts.
The group is looking to build support both inside and outside parliament for a detailed risk assessment of how these issues might impact New Zealand, and is hoping this will lead to:
…robust cross-party strategies and policies to avert these risks and give future generations the very best chance of security, peace, social justice and opportunity for all.
There's much to like in the group's appeal statement, but what I find most encouraging is that a diverse group of prominent New Zealanders is looking to make our politicians face up to the harsh realities of the modern world. I don't imagine that John Key and his government will pay much attention — they're too wedded to the all growth, all the time dogma for that — but with luck and persistence, the group may be able to start building a consensus around the things that we really need to do as a nation. That's something I'm only too happy to support.
The Otago Daily Times lists Brian Turner, Wayne Smith, Fiona Kidman, Glenn Turner, David Thom, Philip Temple, Anne Salmond, Julian Dean, Owen Marshall, Morgan Williams, Chris Trotter, Bruce Burns, Richard Langston and Anton Oliver amongst others.
---