Westward Ho: Day 5 – we chased them off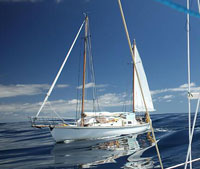 News today that the drill ship is 50 miles off New Plymouth, having passed wide of us in the night and headed south. Seems likely they had planned to rendezvous with the supply ship we saw yesterday morning and do customs clearance out here, but thought better of it when they saw us. All we know is that the supply ship turned around and went back to the site where the Ignoble Bob now is and they are apparently doing customs clearance there.
We've just had word that they expect to arrive at first light tomorrow. Whatever, we'll be here.
Our boats are currently in a tight circle with the videographer up the mast of Tiama and surfing fanatic Barclay is doing a haka on his board in the middle of the circle. It's a haka composed specially for the action off East Cape and performed there on the beach two years ago when Petrobras, the Brazilian company was also hoping to get into the oil business off our coast. Takes a bit more balance to do it in on the water on a paddle board but Barclay isn't even wobbling.
Now one person from each boat is standing on their bow with a piece of limestone given to the flotilla by the people of Kaikoura who welcomed Tiama as it sailed from Bluff to Wellington in preparation for the flotilla. One by one they cast their stone into the water with a few words of dedication.
from the east coast to the west
from the south island to the north
from Kaikoura to Aotearoa to the world
from the depths of our hearts to the depths of this ocean;
With these stones we claim this spot For Aotearoa, for the whales, the dolphins, the sharks, the seabirds all around us
and for the future of our children's children.
I'm gradually meeting all the other crews and visiting all the other boats at our morning gatherings over coffee. This morning we gathered on Friendship, a lovely wooden boat built by Anna Horne and her partner the late Johnny Simpson. Beautiful polished woodwork and a cool wheelhouse deck to hang out on. Anna was the co-ordinator of the flotilla this year — hi Anna, impressive boat.
Typical interview with Sean Plunkett this morning — he thinks the investors should decide where they want to put their money and have an absolute right to decide for us whether they drill for oil – it's about where you can make the most money. Some people will never understand there are things money can't buy and in the end they are the things that really matter.
Off for a nap now — sleep tonight could be broken, and I don't mean just by my 12-2 am watch.
Jeanette
---