Westward Ho: Who's in Charge Here?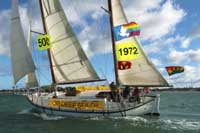 We've had lots of opportunities to observe operations on the drillship — often better at night when it's all lit up. The difficulty is in interpreting what we are seeing. Support ships come in and out. Cranes transfer people in cages from one to the other. Other cages and pipes inside the derrick go up and down. Inflatables zoom around. Divers drop over the side of the NBD. I should have done oil drilling procedures 101 before coming out here. We understand they can't while we're so close but don't know for sure. However, it is clear they are not drilling yet, despite saying they planned to start yesterday. Great statement yesterday from Labour leader David Cunliffe, about the huge risks of drilling — until you realise he hasn't committed himself to anything. There is no policy to stop deep sea drilling. We need to keep working on Labour especially on the climate aspect.
Meanwhile the government is totally missing in action. Having rushed through draconian legislation to stop deep sea oil protests, they are taking no action to enforce it. We have heard nothing from the authorities. Anadarko has been hung out to die. Other oil companies interested in coming here will take note. They are missing in action on environmental protection. Simon Bridges says they are "putting the oil drilling industry through the wringer" yet their new EPA approved the emergency oil spill response plan without seeing it, let alone evaluating it. They are missing in action in their accountability to the public.
Having told the public deep sea drilling is no more dangerous than shallow drilling, though the consequences would be "significant", Amy Adams has been caught out hiding a report showing it as seven times more dangerous and the consequences would "catastrophic". It leaves one asking "who is in charge here?" Obviously, the US oil industry.
---