NZ government climate policy: look, a squirrel!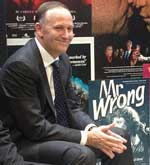 Two major new government reports on New Zealand's emissions projections and the expected impacts of four degrees of warming on NZ agriculture were released without fanfare last Friday — the timing clearly designed to minimise media fallout from reports that highlight the paucity and ineffectiveness of current climate policy settings.
Climate change minister Tim Groser dutifully issued a press release welcoming the release of New Zealand's Sixth National Communication under the United Nations Framework Convention on Climate Change and Kyoto Protocol, the first such report since 2009. Groser praised government policies, but failed to draw attention to the fact that his own report shows NZ emissions failing to meet the government's targeted cuts, or that current policy settings will do little to reduce them — let alone achieve reductions by comparison with 1990 levels. This graph1 of actual and projected net emissions out to 2030 tells the story of the Key government's abject policy failure: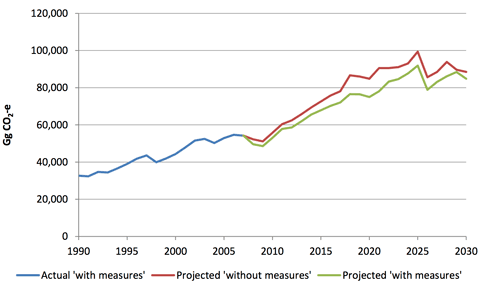 The blue line is actual emissions up to 2008, "with measures" — that is, as affected by policies to reduce emissions. The red line is emissions projected out to 2030 assuming no action to reduce emissions, the green line the emissions that will result after current policy settings are taken into account. Both green and red lines rise substantially up to 2030, and end up at the virtually the same point2 — more than double NZ's net emissions in 1990.
In other words, Tim Groser and his cabinet colleagues have created a suite of policies designed to increase New Zealand's emissions at a time when they are supposed to be being reduced, and which will miserably fail to meet the government's own target of a 5% reduction in emissions (using the 1990 baseline) by 2020.
The second report released last week is much the more interesting of the two, and makes grim reading for anyone trying to play down the seriousness of the likely changes that confront NZ and its farmers and growers. Four Degrees of Global Warming: Effects on the New Zealand Primary Sector (full report and summary available here) was placed on the Ministry of Primary Industries web site last Friday, but was spotted by TV3 News today.
The report is the first study to consider the likely impacts of warming at the upper end of global expectations, and projects climate impacts across the country and on pasture and forest productivity based on two different climate model projections. The pattern of changes is much as described in previous studies — warming spreading down from the north, wetter in the west and drier in the east, greater rainfall intensities, bigger floods and longer droughts — but with much sharper increases in these parameters.
Under the four degrees of warming scenario:
frosts are expected to disappear from all but the highest parts of the North Island and much of the coastal South Island
the amount of rain falling in extreme events is expected to increase by 32%
river flows will experience seasonal changes as snowfall declines
periods of maximum irrigation demand are likely to coincide with extended periods of low flows in major catchments
a massive increase in the growing degree days experienced in all regions, with Canterbury almost as warm as Northland
fruit crops requiring winter chilling (apricots, kiwi) will have to move south
wine growing regions will move and different grape varietals will be required
significant increase in heat stress on dairy cattle
The report finds that the most positive impact will be on forestry, where a combination of warming and CO2 fertilisation is expected to increase yields in both Pinus radiata and eucalyptus plantations.
This is more than a little ironic, given that the Emissions Trading Scheme policy settings and low carbon price have reduced the attractiveness of forestry planting as a carbon sink. The one thing that might do well in a warmer NZ is the one thing the government seems unable to incentivise with a handout. Perhaps James Cameron could make a film about it?
From p126 of the report
88 Gg CO2e without measures, 84 Gg with.
---