Sign up: Wise Response group petitions parliament to take climate, sustainability seriously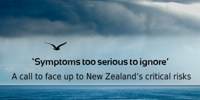 The Wise Response group, set up a year ago to build public and political awareness of the need for a serious review of New Zealand's future policy directions on climate change, economics and sustainability, has launched a petition to persuade parliament that a "national risk assessment" is urgently required. From the Avaaz petition page:
This petition therefore calls on Parliament as a whole to see funds allocated for an assessment of NZ's critical risks in 5 key areas:

Economic / Financial Security: the risk of a sudden, deepening, or prolonged financial crisis.
Energy and Climate Security: the risk of continuing our heavy dependence on fossil fuels.
Business Continuity: the risk exposure of all New Zealand business, including farming, to a lower carbon economy.
Ecological / Environmental Security: the risks in failing to genuinely protect both land-based and marine ecosystems and their natural processes.
Genuine Well-Being: the risk of persisting with a subsidised, debt-based inequitable economy, preoccupied with maximising consumption and GDP.
For more information on the petition — which is to be delivered to parliament in early April — see the Avaaz.org petition page, and for background on Wise Response see their web site, or this post at Southern Energy and Resilience.
I'll support anything that forces the powers that be to revisit their attitudes to planning for climate change, building a resilient and sustainable economy and increasing the health and well-being of New Zealanders. I've signed. I hope you will too.
---