IPCC WG3: it does not cost the world to save the planet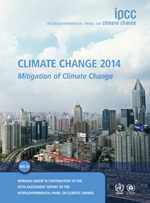 The IPCC has just released the summary for policymakers of the Working Group 3 report on mitigating climate change. It makes clear that the world has to act quickly to restrict carbon emissions to have a reasonable chance of restricting warming to 2ºC by the end of the century, but establishes that the costs of action are affordable.
A few key points:
Annual greenhouse gas emissions have risen 10 GtCO2eq between 2000 and 2010, and half of all emissions since 1750 have occurred in the last 40 years
If no further actions are taken to reduce emissions global mean surface temperature in 2100 will increase by 3.7 to 4.8°C compared to pre‐industrial levels
To have a reasonable chance of staying under 2ºC of warming in 2100 means restricting greenhouse gases to 450 ppm CO2eq
Hitting 450 ppm CO2eq will mean "substantial cuts in anthropogenic GHG emissions by mid‐century through large‐scale changes in energy systems and potentially land use"
Typical 450 ppm CO2eq scenarios include overshooting the target and then removal of CO2 by bionenergy with carbon capture and storage (BECCS), though "carbon dioxide removal (CDR) technologies and methods are uncertain and CDR technologies and methods are, to varying degrees, associated with challenges and risks"
The Cancun pledges are not consistent with cost-effective efforts to hit 2ºC, and are more likely to commit the world to 3ºC of warming
The sooner we act, the cheaper overall mitigation will be – as little as 0.06% of annual GDP growth to hit 450 ppm CO2eq
Commenting on the report for the Science Media Centre, VUW climate scientist Jim Renwick said:
The WGIII report charts many possible futures where we cap the warming at 2 degrees. Action, such as moving to 100% renewable electricity generation, needs to start immediately. New Zealand is as well-placed as any nation to lead the world on this, provided we have the political will. That appears to be lacking right now – there's plenty of talk about emissions reductions targets, while at the same time we're opening the country up to more oil drilling and coal mining. The latest MfE report shows New Zealand's emissions have gone up 25% since 1990, and they are on track to keep rising.

Per head of population, we are some of the biggest emitters on the planet. Clean and green? 100% pure? Right now – I don't think so.
Read more at The Guardian and BBC. I'll have a post with more NZ reaction in due course.
Summary for policymakers (pdf)
Full report (available from April 15th)
---