"Just So Science" – The Questioners

We've had a few excellent days at the observatory this week, with clear skies letting us open the Thomas Cooke telescope for the first time in what seems like ages! That said, it's not the skies that have made the last week particularly notable – but the people and questions I've run into, so I thought I would answer some of the questions here instead, where I can use pictures and videos to my heart's content!
What happens when two stars collide?
Kudos to the 7 (? okay sorry I'm awful at ages!) year old girl who asked me this. The answer to this question is far from clear or simple – firstly it depends on all sorts of variables, like the speed the stars are travelling and their masses etc, but I can show you some of the 'theoretical' outcomes that we believe because of computer simulations.

One idea is that this can lead to the formation of a 'Ring' or 'Planetary' Nebula' like the one in the picture shown below around a supernova from February 1987. Here, we think two massive stars merged, forming a red supergiant (like Aldebaran or Antares), but as they did they released a huge amount of energy in the form of a shockwave (kinda like a baby supernova – nova for short) – that's what created the rings. Then eventually, the stars 'radiation pressure' (what prevents them from collapsing under their own weight) died down as they ran out of fuels, the stars collapsed and then exploded in a typical supernova, sending out more shockwaves!
(http://www.space.com/3498-star-collision-yields-ring-nebula.html)
More interesting is what happens when two 'neutron stars' (dense remnants of supernova) collide as shown in this animation where the colour is the relative density of the stars (red=very dense, blue=medium dense, yellow=lowest density). You can pretty clearly see that they fuse together, and when they do they release a huge burst of radiation.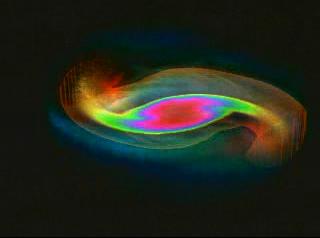 Video: http://www.haydenplanetarium.org/resources/ava/stars/S0606neutcoll
What exactly is a black hole?
So a black hole is formed when a star collapses under its own gravity (usually 10 to 25 times bigger than our own sun), creating a point in space where gravity is so strong that NOTHING can escape it, not even light. The point where gravity becomes strong enough to capture light is known as the Schwarzschild radius, – you can think of it as the 'edge' of the black hole – the well known 'event horizon'. Outside of this, a black hole usually attracts huge amounts of dust and gas that form an 'accretion disk' around it – and this is where the majority of the light comes from (N.B. This is what quasars are – the bright bits around supermassive black holes). Inside that horizon gravity is so strong that EVERYTHING (light, matter, etc) collapse down to a single point known as a 'singularity'. We think that black holes are at the centres of most galaxies , meaning that to 'see' our closest one you need to look towards the constellation of Saggitarius (below Scorpius in the East) in our night sky.
What happens when two black holes collide?
Okay so no one asked me this question, but it seems a logical step from the first two!
(http://www.universetoday.com/13002/what-happens-when-supermassive-black-holes-collide/)
Contrary to what you might expect, simulation suggest that one of the black holes would slingshot around the other and get hurled away from it at tremendous speeds, generating a burst of X rays from the initial one when it does so!
————————————-
And for any of the students at Taita College that we met yesterday as part of Awhina's outreach programme – Aquarius is definitely the most interesting constellation, and you guys asked some great questions too! (I'm keeping a note of them and will address them in a later post)
---