Professor Liz Slooten and Professor Steve Dawson, University of Otago
The recently released Threat Management Plan for Hector's and Maui dolphins presents government's proposals for better protection from entanglement in fishing nets and other threats. Better options than any in the Threat Management Plan have been recommended by New Zealand and international experts. Worse options have been proposed by the fishing industry. It is now up to the Ministers of Fisheries and Conservation to choose among the "good, the bad and the ugly".
Government options
The Threat Management Plan proposes four options for Maui dolphins and three options for Hector's dolphins. In addition to some serious problems with the science the options are based on, they are also very complex. Depending on where you are, the offshore boundary for protected areas would be 2, 4 or 7 nautical miles from shore, or the 100 metre depth contour, or a complex line drawn on a map.
All of these options fall well short of protection recommended by New Zealand and international experts such as the International Whaling Commission (IWC) and International Union for Conservation of Nature (IUCN). These organisations have been working on marine mammal bycatch issues for many decades and are world experts in this topic.
Fishing industry options
The fishing industry have argued for further watering down the government options, using voluntary codes of practice instead of regulations and continuing to test "technical fix" solutions. This would simply delay putting in place effective, science-based protection. There is no such thing as a dolphin-safe fishing net.
Luckily, most fishing methods are already dolphin-safe (e.g. fish traps, hook and line methods). Fishing nets remain a problem – not just for dolphins and whales, but also for seabirds, sharks and other marine life. They are also non-selective and result in large-scale dumping of fish that are too small or the wrong species.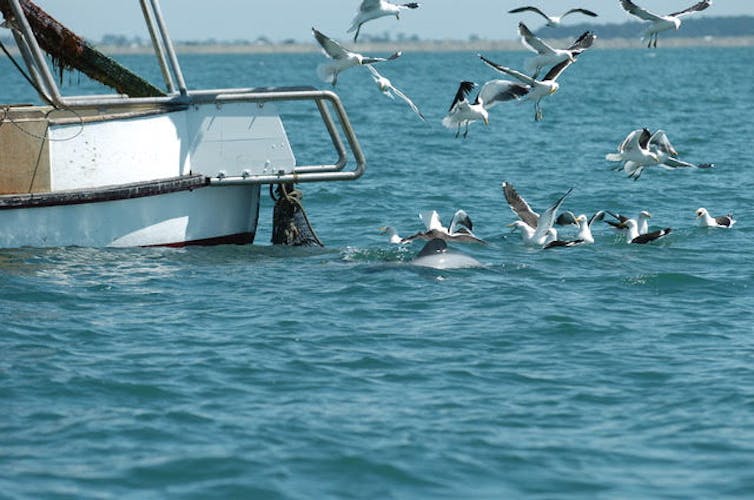 A simple, effective solution is available
This is actually a very simple problem with a simple and effective solution. The International Whaling Commission (IWC) and International Union for Conservation of Nature (IUCN) have recommended banning gillnet and trawl fisheries throughout Māui and Hector's dolphin habitats. This is also included in the Labour Party and Green Party policies and supported by Conservation Organisations like Greenpeace, Forest and Bird, World Animal Protection, NABU, Mission Blue and many others.
If we want to ensure the long-term survival of these dolphins, there is only one realistic solution: to remove fishing methods that kill dolphins from dolphin habitat. The simple solution is to use only dolphin-safe fishing methods in all waters less than 100 metres deep. We need to put the protection where the dolphins are. This means no gillnets or trawling in harbours and other coastal waters less than 100 metres deep.
This has been shown to work at Banks Peninsula, where dolphins have had partial protection since 1988. Detailed follow-up research shows that this population was declining at 6% per year before gillnets were banned to four nautical miles offshore and trawling to two nautical miles. Following protection, the rate of population decline dropped to less than 1% per year. There has been no management of disease or other threats in this area.
There is no need to ban recreational or commercial fishing in dolphin habitat, but a transition to selective, sustainable fishing methods would be a major benefit to Hector's and Māui dolphins. Selective, sustainable fishing methods also use less fuel than trawling and avoid impacts on the broader marine environment.
In this wide-angle video you can see a group of Hector's dolphins (in the foreground) following a trawler (in the background). Dolphins typically follow trawlers for several hours at a time, repeatedly diving down to the net to feed. This is a dangerous way to feed and many dolphins have died by being caught in trawl nets.
Research needs
More observers and more cameras on fishing boats would also help. The Ministry for Primary Industry's estimate of how many dolphins are dying in fishing nets is almost certainly an under-estimate. The current estimate depends heavily on assumptions that are not supported by data. With observers on only about 2-3% of the inshore fishing boats, the chances of missing bycatch altogether is very high. Low observer coverage also means boats can fish differently on the days when they have an observer aboard (for example, avoiding areas where they have caught dolphins).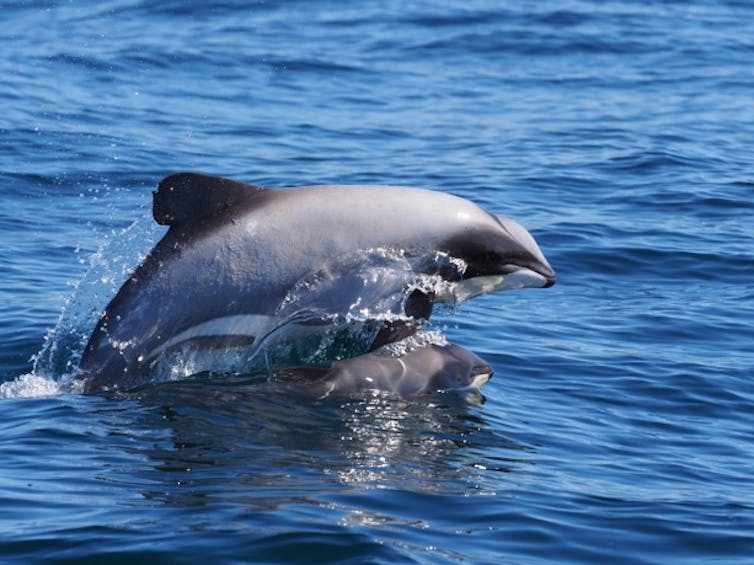 Steve Dawson and Liz Slooten are Professors at the University of Otago. Steve is the Head of the Department of Marine Science.

---